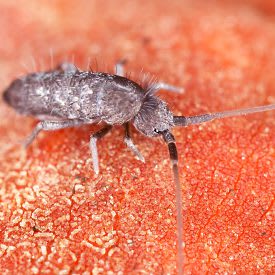 Springtails
DESCRIPTION:
Springtails are white, gray, or light-colored measuring about 1/16 inches long. They have a distinctive head with long antennae. The rest of the body has a somewhat "hump-backed" appearance. Springtails get their name from a forked appendage attached to the end of the abdomen which allows them to spring forward like a flea. They have no wings.
HABITS:
They feed on algae, fungi, decaying vegetable matter, and some consume living plants and dead animal matter.
BIOLOGY:
Springtails are always found in very humid situations. They are found in places like the bathroom, kitchens, around drains, potted plants, etc. They usually do not do any damage to anything, but they are thought as pests because they are normally in such great numbers.